All merchandise is on sale and a part of our spring & summer promotion event, with savings of up to 50% off on until September 3rd. Save on great looks for the season, including these featured items.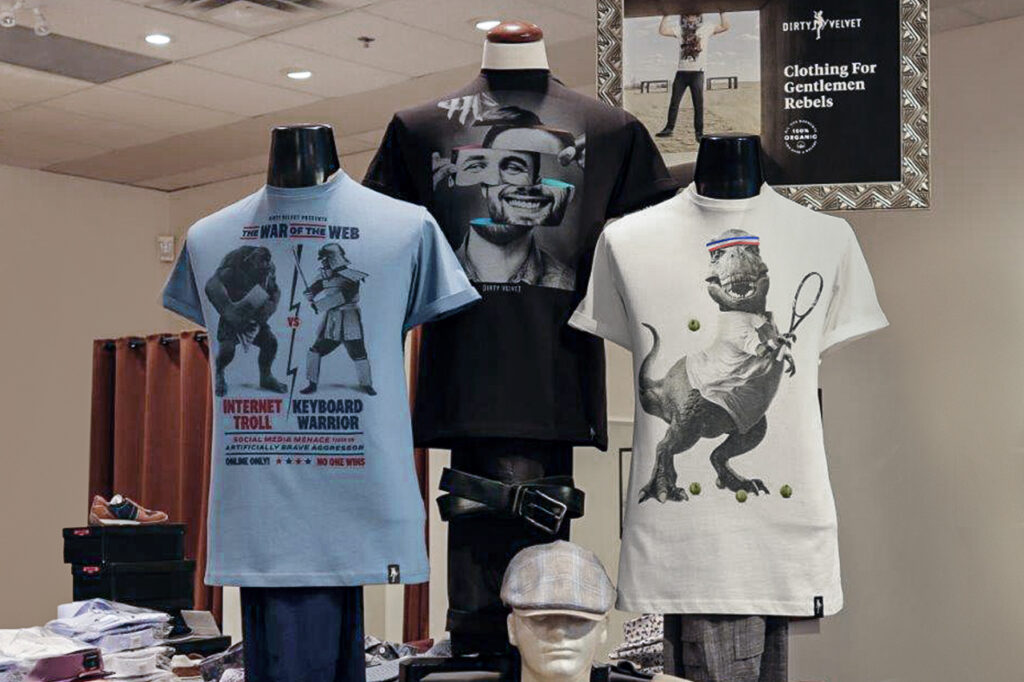 The Dirty Velvet T – Shirt Collection
This collection is created with original graphics combining imagery that reflects our view of humanity, modern life and the universe. 100% organic cotton grown without the use of pesticides, herbicides or chemical fertilizers ($75.00)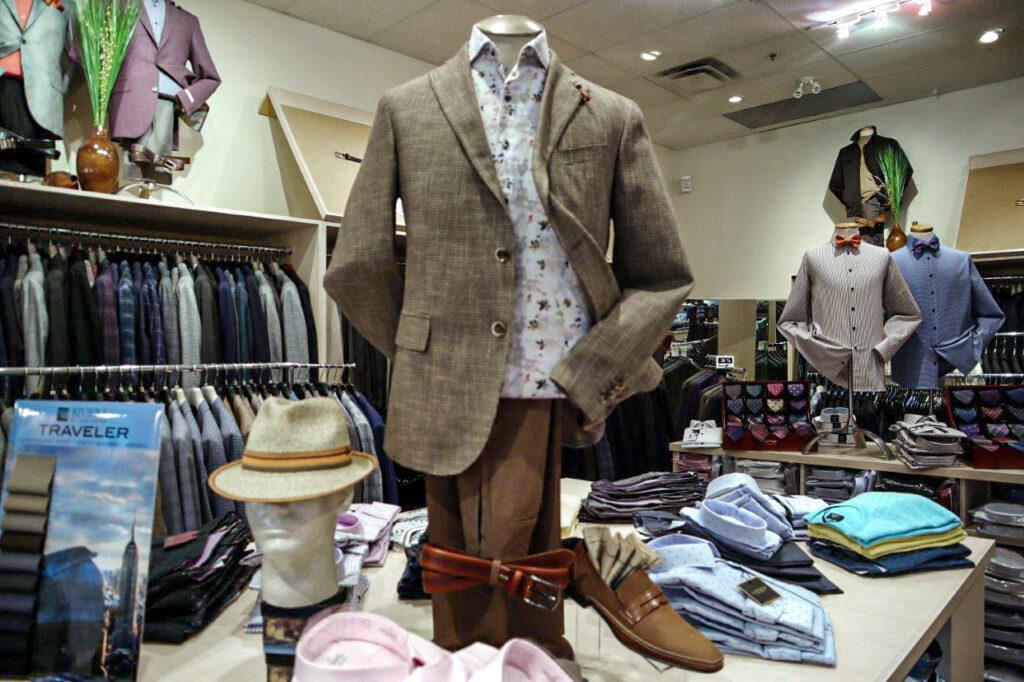 A Casual / Dress Perspective
 This unconstructed sports jacket a clothing collection of Baldessorini of Germany. Fabrics blended with natural and synthetic fibres reflecting durability and a soft easy wearing garment ($650.00). Coordinated with a light weight wool pant by Riviera ($195.00) together with a short sleeve open print shirt of 100% cotton by 7 Downie Street ($145.00).  A belt from Lloyd and shoes from Mezlan complete the outfit.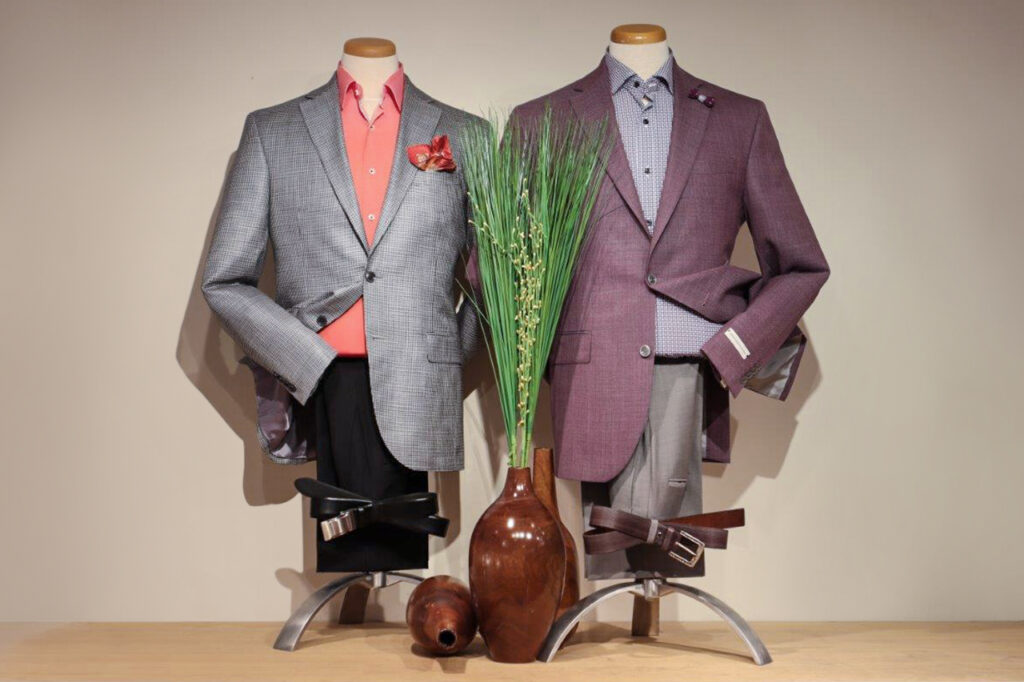 Sport Jacket Flexibility from Jack Victor
 A strong desire to have the most out of a garment, on the left we present this black/off white fine houndstooth pattern in 100% bamboo fibre ($725.00) with a black pant by Riviera ($195.00) and a colourful solid orange shirt from Eterna ($165.00). On the right, also from Jack Victor of Canada is a textured wool jacket fully lined in mauve ($625.00). Together with a light weight dress pant in light grey from Riviera ($195.00) and a fine print 100% cotton shirt from Mirto of Spain ($215.00)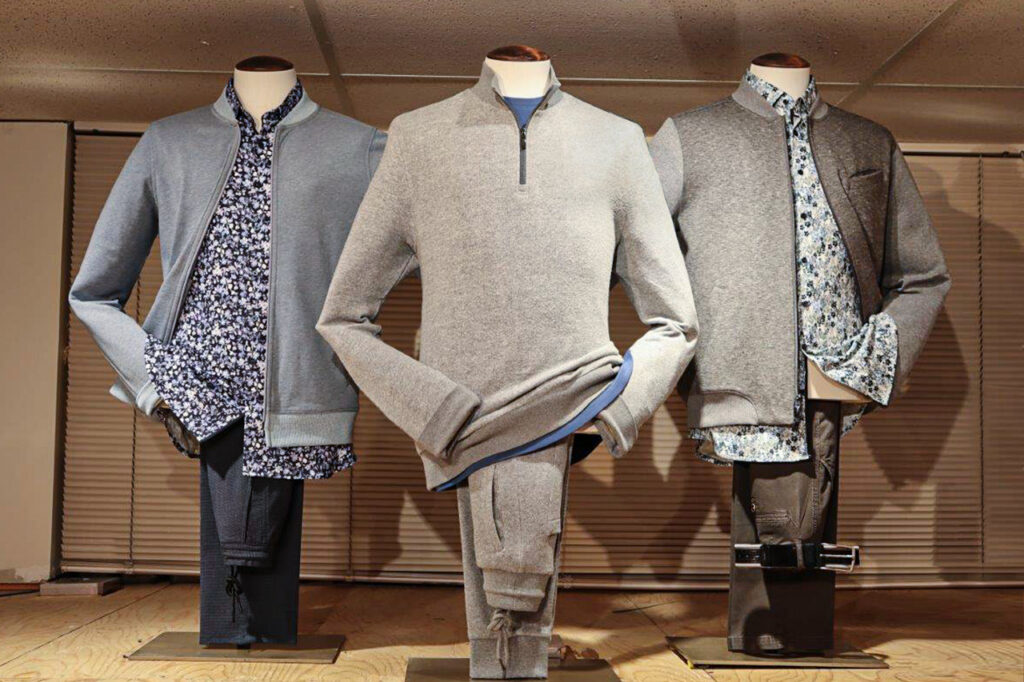 Smart Casual Looks for Out and About
 Relax, it's easy going leisure wear. On the left is a light weight cotton full zip front jacket with banded collar ($195.00) by Robert Barakett and an elastic/draw-string leisure pant also from Barakett ($185.00). On top a short sleeve cotton jersey shirt floral print by Desoto ($165.00). In the centre, a home leisure look with this half zip cotton blend top in mid grey ($150.00) combined with a draw string jogger pant in matching colour ($120.00). Each sold separately add an under piece crew neck t-shirt in Pima cotton ($75.00) all items are from Robert Barakett. Finally, on the right is a smart street full zipper jacket front jacket in cotton blend, two-tone jersey knit shirt ($225.00) matched up with a short sleeve jersey shirt by Desoto ($165.00) together with a cotton pant from Stones ($195.00)