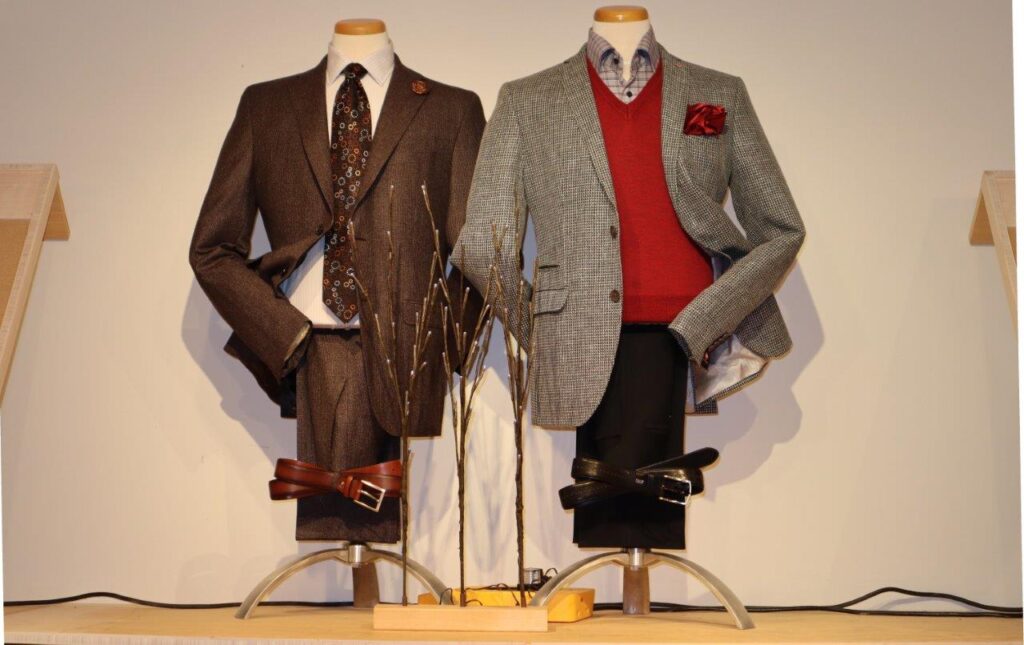 Left: From Digel of Germany is this two piece pure wool suit in a brown / grey mini check ($1,045.00). Accessorized with a fine striped cotton dress shirt from Lipson ($180.00), and a silk tie by Tino Cosma ($115.00) and an all-leather belt by Lindenmann ($95.00).
Right: From Club of Gents is a textured woven wool blend sport jacket in mid to light grey shades ($615.00) together with an extra fine merino wool V-neck sweater in cranberry colour by Valentino Marini of Italy ($195.00). A check shirt from Eterna grey base with charcoal / burgundy ($195.00). Dress pant by Riviera ($185.00) and all-leather belt by Lloyd ($120.00).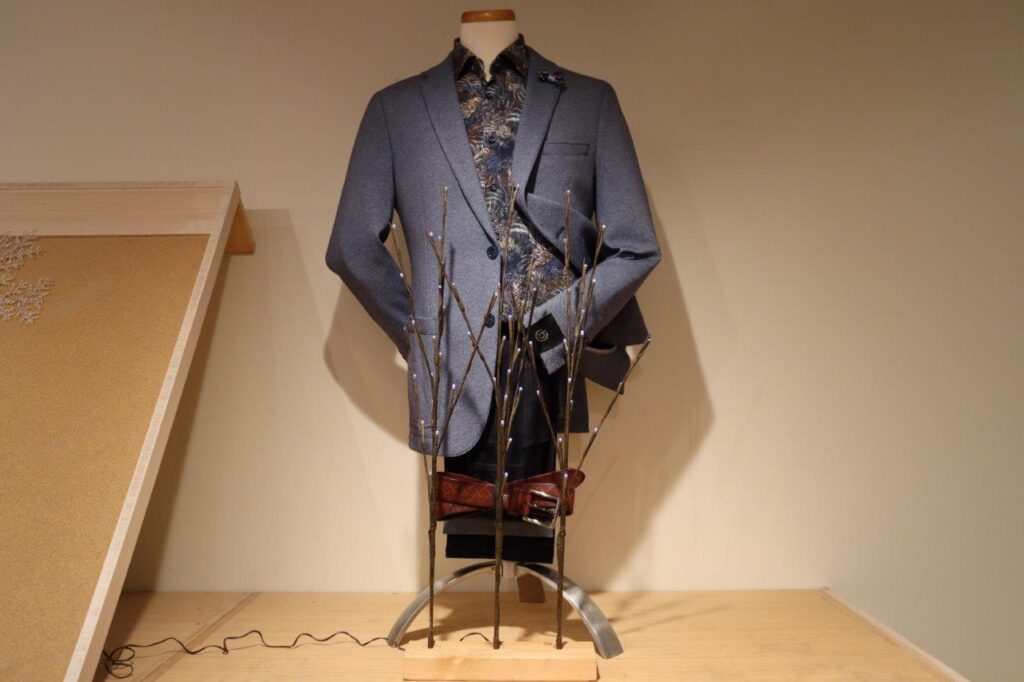 Bugatti of Germany offers this unconstructed blazer jacket in a cotton blend woven stretch denim blue colour ($475.00). Together with a multi colour cotton print shirt from Haupt ($195.00) and dark denim jeans from Hiltl ($245.00). Add a cognac colour leather belt from Lindenmann ($95.00) and you're set to go out!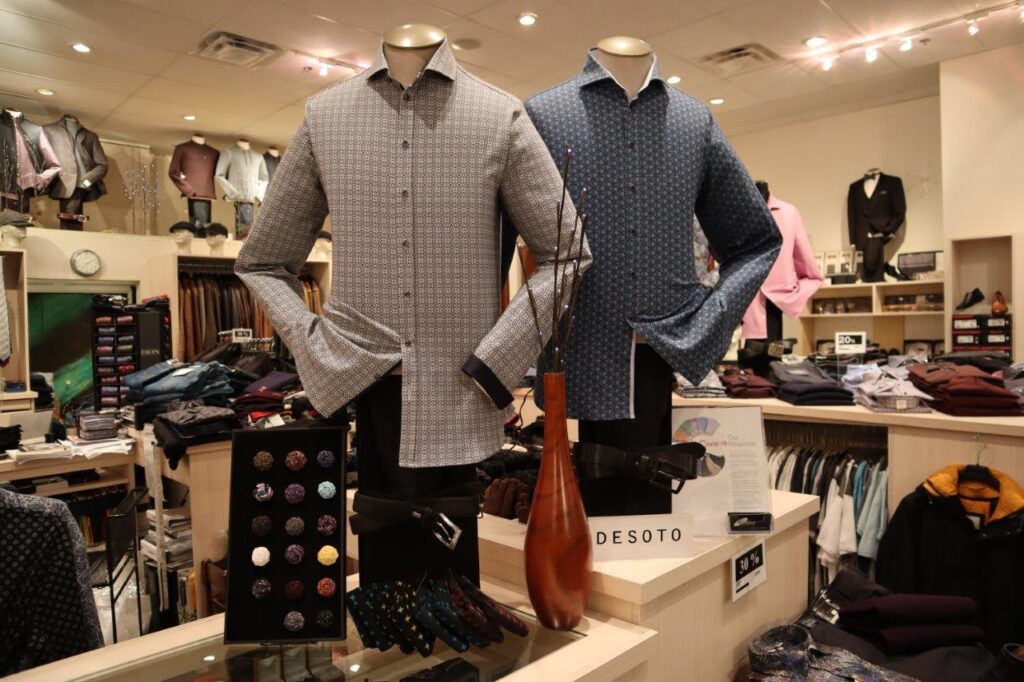 These pieces are from Desoto, specializing in jersey cotton shirts. These fabrics are made in Germany and feature easy care, pure cotton with natural stretch.
Left: Grey print contrasted pattern shirt ($175.00) together with a charcoal five pocket ceramica pant from Alberto ($235.00) and charcoal nubuck leather belt from Bugatti ($105.00).
Right: Another print shirt in denim blue also from Desoto ($175.00) together with a navy print cotton five pocket pant by Gardeur ($195.00) and a smooth leather belt by Haupt ($115.00).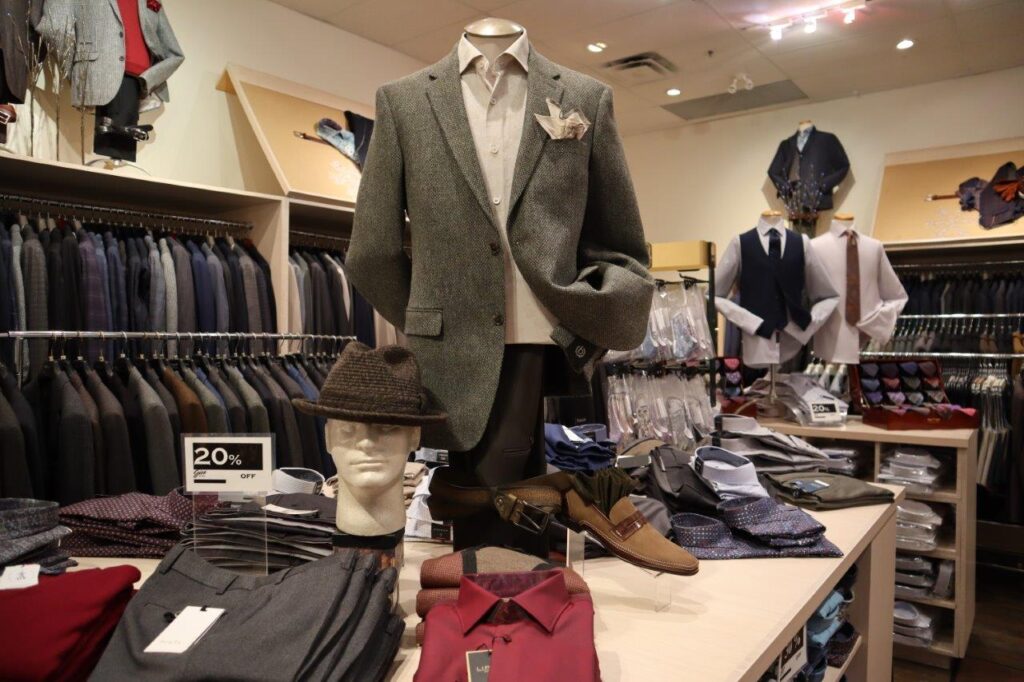 Bugatti offers this wool tweed sport jacket in muted green / grey birds eye pattern ($525.00). Coordinated with dress pant in dark forest green by Riviera ($185.00) and textured leather belt by Lindenmann ($95.00). Shirt furnishing in beige / ecru tonal print from Bugatchi ($165.00) in cotton. Accessorized with a slip-on shoe by Mezlan and hat by Borsalino to complete the look.