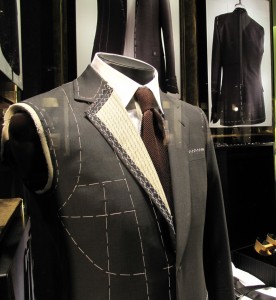 Nothing gives a man confidence like a garment made precisely for him. At Gios Collections for Men, we make that happen with our Made to Measure services for suits, sport jackets, shirts and leather wear. This 30 to 45 minute service is by appointment or walk-in, any day of the week.
Made to Measure entails a full set of measurements taken from an existing garment belonging to the client and full measurements of the client's form; this ensures an exact fit. Individual style is emphasized through the many choices of fabrics, styles, linings and detail trimming available.
Gios Collections for Men offers Made to Measure from Empire Clothing, Lipson Shirtmakers and Jez Leathers. All shirts are two-ply 100% cotton fabrics. Suit and sport jacket fabrics come in 100% wool, wool-cashmere, silk, or silk blend. All fabrics are European woven.
Made to Measure garments are all made in Canada. Orders take 3 to 4.5 weeks for delivery in-store.