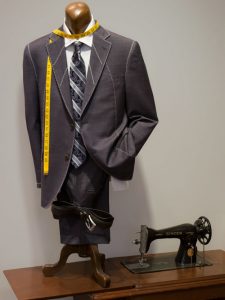 It may seem like made-to-measure is everywhere these days, and it's no surprise — the modern man appreciates the fit of a garment made just for him.  But does that mean all made-to-measure is alike?  Of course not !
The perfect fit is only one part of the perfect garment.  The quality of the materials, the care given to the craftsmanship, and the selection of the finer details are what makes a made-to-measure garment perfect for you. Our expertise and experience will guarantee that you receive the very best made-to-measure garment — one that not only fits you, but also represents you.
During our Made-to-Measure event, you can experience this level of quality for 20% off the normal price.  Receive 20% off on all made-to-measure suits, sport coats, trousers, shirts, and leatherwear — all made with pride in Canada.
We invite you to come in for a consultation and discover what's involved in our made-to-measure program.